"You must never be fearful about what you are doing when it is right." Rosa Parks

Winter twilight
Yet again, I'm falling behind on my updates! I am getting so comfortable in my Sabbatical.

Keeping busy with many volunteer activities, meeting wonderful People, listening to music in my "Cheers", Sojourn, not setting alarms most days. (I love that's as it was one of my dreams..not having to set an alarm every day.)

Definitely enjoy fulfilling dreams.

And, then there's the healing.

It is happening, thank God.

I am finding my Philosophy class helps so much, the camaraderie of the class is wonderful, and my almost daily practice of meditation.
on 77th (2&3)
That is not to say, it is still pain-free!

I constantly research job opportunities. What is it I want to do?

When I research Dental opportunities I feel true dread.

I cannot go back.. The People I meet give me affirmation in what I am doing is "right and brave."

It will come to me, I know.

On that note, I met with my Philosophy Friend and her BF who is quite an entrepreneur, and may be a new experience in work for me, at a neighborhood Le Pain Quotidien.

I love that "chain" of patisseries.

Part of its philosophy: "
Le Pain Quotidien
means the daily bread. And to us, that means everything. It's much more than mere sustenance; it's a way of life. As our loaves emerge from the ovens, warm and fragrant, friends gather around our communal tables to share in the time-honored tradition of breaking bread."
Hibernation
This winter is getting to me, as it is so many.

The Polar Vertex's are getting me down.

I am finding myself truly hibernating.

But, hibernating here in NYC, knowing how much is outside my door is so different to my mental health than being stuck inside, alone, in the 'burb of most of my life. Funny how that is.

Snowy days are at least warmer, and can be truly beautiful.

On one such day, I met a high school Friend for tea (her birthday!), as she was in the city on business.

It was a real treat, and a lovely couple of hours spent at
Perk Kafe
in Midtown.
Some things are being cancelled due to weather, but I have still managed to spend some time across the street at the Yorkville Library tutoring S
eniors on the computer.

I always go in with trepidation, and sometimes what my Senior needs is more than I know to share.

But always, I leave feeling good, having made yet another acquaintance in the city.
A lovely Lady I have chatted with a few times at my Sojourn is an Event Planner.

Her work is stunning.
Nancy
and I met at Sojourn one night to chat about the fact that she needed a Publicist.

She was kind and gracious and we pondered if this could be something for me?

I shadowed her on one of those fiercely cold days..observing how delicate roses can be; was very impressed with how she handled some crisis'; loved the street in the flower district I got introduced to; was delighted to spend time at the
Cipriani 42nd Street
helping to set up the Gala for
America Needs You
.

Nancy then generously treated me to dinner at a wonderful Greek restaurant in our neighborhood (where one of her collaborators work, so we got to visit again),
Yefsi Estiatorio
.

I must share a quick small world story:

Nancy's second collaborator raised her two children in the North End of Boston.

They most likely all spent many days together in the Waterfront Park! (memories of Barbara, God love her, flooding back.)

Ultimately, after writing a very rough draft of a PR piece, researching what PR really entails..I decided that is not where I want to head professionally.

Nancy agreed we'd still be Sojourn friends.
Keren and the Sugar Daddies
I have found another place to see one of my favorite new bands, Keren and the Sugar Daddies.

I joined some of my Sojourn friends a couple of times and ventured over to the West side to see them at
Prohibition
.

I am officially a groupie for the first time in my life !
The Orchid by Georgia O'Keefe
Have I mentioned how much I respect and enjoy all the many facets of the NYPL?

I became a member, which allows for discounts on special lectures and "Live at the NYPL" events.

On a Friday recently, I headed out to attend one such event, and decided to first spend some time at the
MOMA
which is free on Fridays from 4-8pm.

Another exhibit I wanted towas closing
.
American Modern: Hopper to O'Keeffe
was a treat.

However, one of the participants in the show, one of my all-time favorites who actually lives at the MOMA, brought me to tears, yet again.

This time bittersweet tears of sorrow, mourning.

Christina's World by Andrew Wyeth evokes so very many memories of Maine.
Off to the magnificent Library on 5th Avenue to what is becoming a favorite auditorium, Celeste Bartos Forum.

I had a thoroughly enjoyable couple of hours with
James McBride and The Good Lord Bird Band
.

Author of the classic memoir, "The Color Of Water", this was a celebration of his 2013 book, the Winner of the National Book Award for Fiction, "The Good Lord Bird."
First course: Gumbo Z'Herbes
A very special treat was a night spent at
City Grit
with my one of my special Friends from the Food Film Festival.

From its website: City Grit is a culinary salon- a gathering of people under the roof of an inspiring host, held partly to amuse one another and partly to refine taste."

Sarah Simmons invited me after working with her at the FFF here in NYC on October.

A perfect winter Sunday Supper of fried chicken was held at a really cool space in SOHO, and old Catholic school.

(Alas City Grits will lose its space there when the building gets demolished, but they're on the lookout for another.)

And, Sarah's fried chicken dinners have been so popular her plan is to open a small restaurant dedicated to that!

Our incredible meal was made so very more enjoyable by our table-mates, of whom we have friended on Facebook, and hope to see again!

Lovely People with poignant stories.
Main course!
I took my first online course.

"Stress-free Budget Travel" was a two day webinar with Matt Kepnes, a Boston boy who now bases himself in NYC, but has been traveling the world for years.

He has an award-winning blog-site,
Nomadic Matt.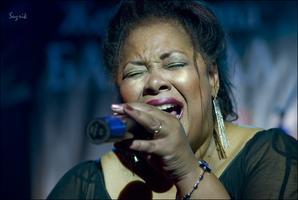 Ada Dyer
(I forgot to mention another memorable first I enjoyed a few Sunday nights ago,
BB Kings' Blues Club.
I found a great show on my Play by Play, and thoroughly enjoyed Ada Dyer and the A Band at this classic joint in Midtown.

My "date" for the evening was a wonderful young woman who has musical aspirations of her own (including a possible course of study at Berkely in Boston).

Her boyfriend was in the A Band).