"
When you bring consciousness to anything, things begin to shift."
Eve Ensler
Eve at the NYPL
Funny, the last couple of weeks I've been "spending time" with Eve Ensler again, which is always powerful and moving.

The NYPL had a discussion series with authors, Books at Noon, and Eve was the final author for the season.

From the NYPL website: "
Eve Ensler is an author and award-winning playwright. Her theatrical works include

The Vagina Monologues

,

The Good Body

, and

Necessary Targets

. She's also written a political memoir, Insecure at Last, and

I Am An Emotional Creature

which she has adapted for the stage. Ensler is the founder of V-day, a global movement to end violence against women and girls."
This amazing woman never fails to move me.

I bought two copies of her most recent memoir, In the Body of the World, A memoir of Cancer and Connection.
(Sorry Katie, as I read your copy while eating lunch at the Bryant Park Café, the bartender dumped water all over it, and my phone!.

And, I've been dragging it all over the city reading it, often with tears in my eyes.

Your copy will be "gently used.")
Deepak Homebase
Eve & Christine
I feel honored and privileged to help
VDay
in any small way that I can, so I jumped at the opportunity when the Communications & Special Events Director asked if I could help out at a very special event at ABC Carpet and Home, which has a gorgeous event space, Deepak Homebase.

From VDay
: "
Eve Ensler will be sitting down with our dear friend and colleague, V-Day Congo Director/Director of City of Joy Christine Schuler Deschryver for a special RISE4JUSTICE event and reception at ABC Carpet & Home in NYC.

Christine is traveling in from Bukavu, DRC for this one-night only evening and all of us at V-Day encourage you to attend.

The conversation will be a unique opportunity to hear directly from Christine about the situation facing women and girls in Congo, and the work being done on the ground to end the violence."
It was a very special night, and my heart sang when one of VDay.org's associates said it was like a mini-reunion of VDay!

(I invited a very special Lady to crash with me as she comes down from NH to be a part of any and everything VDay.

It was like having a pajama party!)
Mixed in with Vday activities, of course, many explorations have been thoroughly enjoyed, especially with the glorious spring I am so grateful for.

One of my favs from the Food Film Festival has been organizing
Burger Week
in NYC for 3 years.

My Library Friend and I had fun at the Cinco de Mayo Burger Feast at
The Bar Room
.

(She then came to my Sojourn for Monday music.

She understands my love for it!)
After spending most of an afternoon reading Eve Ensler's memoir in Bryant Park, I headed to the Tribeca Cinemas downtown for a very special Food Film Festival screening of George Motz' Hamburger America.

The 10th anniversary of the film that started the whole concept and celebration of the Food Film Festival!

Frames
The Food Bank of NYC very graciously hosted a thank you event at

Frames

, a cool bowling facility near Penn Station, for people who played at the Wine and Food Festival last October.

It was wonderful to connect and really get to know one of my other event leads.

She shared a lot and gave me great information and food for thought on my next steps professionally.
Seen while training!
But, I can put the nightmare of sending resumes into the black hole of the internet behind me for now, as I have a job!

I got it just as I thought I would, by the "networking" I've done in all my interesting volunteer experiences here.

I worked with this great young guy at both the

Food Film Festival

here in NYC and

Share Our Strength's Taste of the Nation

recently, we knew we should talk.

We met Downtown near Battery Park at a great new Mexican restaurant
El Vez
, to discuss and "seal the deal."

Having been brought up by a Man who has "saved lives his whole life" Mitch saw an opportunity to meld his love of working in the food industry with health care education (CPR, First Aid, etc.).

I am joining his endeavors at Initiatecare (
www.initiatecare.com)
, part time to start, but it's got great growth potential and have even started my training.
Mother's Day weekend, celebrating my new job, and simply me, I treated myself to my all-time favorite "Les Miserables."

I don't think I will ever tire of that show.

My Ladies were together in Boston, doing a massive purge and clean of Katie's home.

So, I managed to keep myself busy, and celebrate my Motherhood for me.

On Mother's Day, I met a dear friend of my Landlady's for a play, which unfortunately was simply awful.

We left at intermission (something I've never done before)

The day was salvaged by a lovely brunch at
B-Bar & Grill on the Bowery.
Ending the day with a perfect long walk, with some reading thrown in, through Central Park on a magnificent early evening was the perfect cap to a very nice Mother's Day.
Kristi and I celebrated the next night by sharing a great dinner at

The Writing Room

, which is the sight of the infamous Elaine's. FromWikipedia
: "
Established in 1963, Elaine's is famed both for the writers and other prominent New Yorkers such as

Woody Allen

,

William J. Bratton

,

Mia Farrow

,

Clay Felker

,

Helen Frankenthaler

,

Joseph Heller

,

Norman Mailer

,

Peter Maas

,

Robert Motherwell

,

Chris Noth

,

George Plimpton

,

Mario Puzo

,

Sally Quinn

,

Mark Simone

,

Gay Talese

,

Tom Wolfe

, and

Sidney Zion

, who had been regulars over the years, and for its late chain-smoking namesake and proprietress

Elaine Kaufman

, who ran the restaurant for over four decades. Visitors included

Leonard Bernstein

,

Michael Caine

,

Kirk Douglas

,

Clint Eastwood

,

Mick Jagger

,

Willie Nelson

,

Jacqueline Kennedy Onassis

,

Luciano Pavarotti

,

Elaine Stritch

,

Eli Wallach

, and

Willie Nelson

, among others.

The restaurant was noted for its Oscar night, where celebrities and visiting Hollywood stars congregated to watch the

Academy Awards

ceremony. The quirky owner,

Elaine Kaufman

, was known for not mincing her words, for booting less-favored customers to seat new arrivals, and for forbidding hamburgers in her establishment.

She was once arrested after a physical altercation with a visiting

Texan

. Elaine also once had a cat fight with the actress Tara Tyson and then claimed that the thespian had set her ablaze with a lit cigarette."
We had a wonderful dinner in the back room that looks like a big library in a private home.
When Kristi opened a book on the bookcase next to her about Strawberry Fields in Central Park, a postcard signed by Yoko Ono fell out!
We then walked to Sojourn, for you guessed it, Monday night music with Keren and her Sugar Daddies.
Dizzy Gillespie's
On a "typical evening" recently I joined some of my Salonistas (
International Women Artist Salon
/IWAS) at the home/studio of an interesting and gracious Nadine, a watercolorist, now retired theatre professor.
From there I finally got to
Dizzy Gillespie's Coca Cola Jazz Club
at the Time Warner with my Landlady's Friend, again.
Delicious cup
of chicken gumbo to go along with great music in homage to Eartha Kitt.
Finally, meeting my Sojourn Friends at Prohibition for some more music from Keren and her Sugardaddies!
Not bad for a Thursday night (a little different from my Thursday evenings alone in Milton!)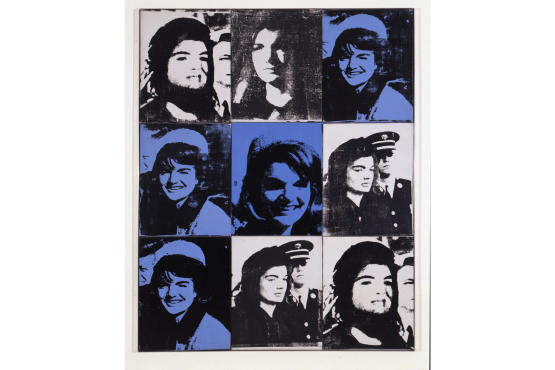 From Timeout.com
Not wasting a precious moment, before heading to Sunset Park and Industrial City for the second night with Rooftop Films, I went to the closing day of an exhibit at

Blain Di Donna Gallery

at the Carlysle Hotel, Warhol: Jackie.

It was amazing, and yes, very moving.

I will never stop getting excited by how many landmarks are within walking distance of my Hx3!

Simply unable to walk by without going in, I did treat myself to a lovely glass of wine at the Bemelman Bar.

I then spent some time in my Park (Central) reading, being, and watching one of the largest birds I had ever seen entertain a crowd by eating his lunch, an animal of some sort.

(Missing my previous heaven on earth so much it hurts, especially right now, as it's the time of year I would have started going up every weekend, this was a special treat for my soul..nature in my city!)

Fatted calf in the courtyard
Although marred by torrential downpours, I feel like summer has begun as
Rooftop Films
just had a very successful opening weekend!
Spending time at Industrial City, a major sponsor of Roof this summer, was fun and amazing to see the growth of the area since last summer.
Not on a rooftop on opening night due to the rains, but the huge warehouse space is great.
And, Saturday the "Secret Party Cove" was a real treat (filled with feral cats!).
Once again spending great evenings with special people at really cool venues (getting a great upper body workout moving chairs..), the summer is unofficially off to a great start.
Watch for
Obvious Child
, it was truly wonderful!
"Uproarious and refreshingly honest" –Variety